Titan Protein Sample Packs
Regular price
Sale price
$12.99 USD
Unit price
per
Sale
Sold out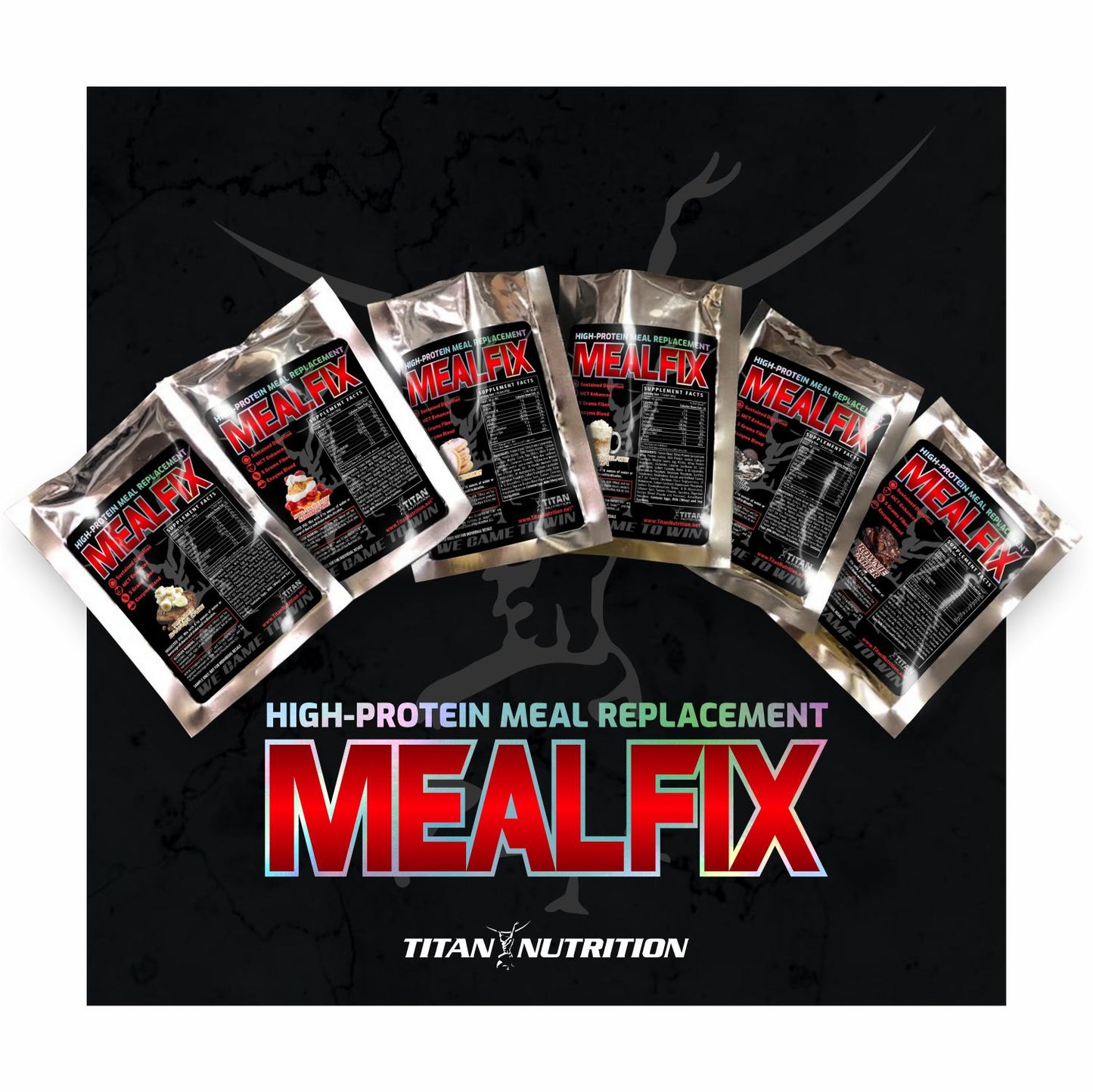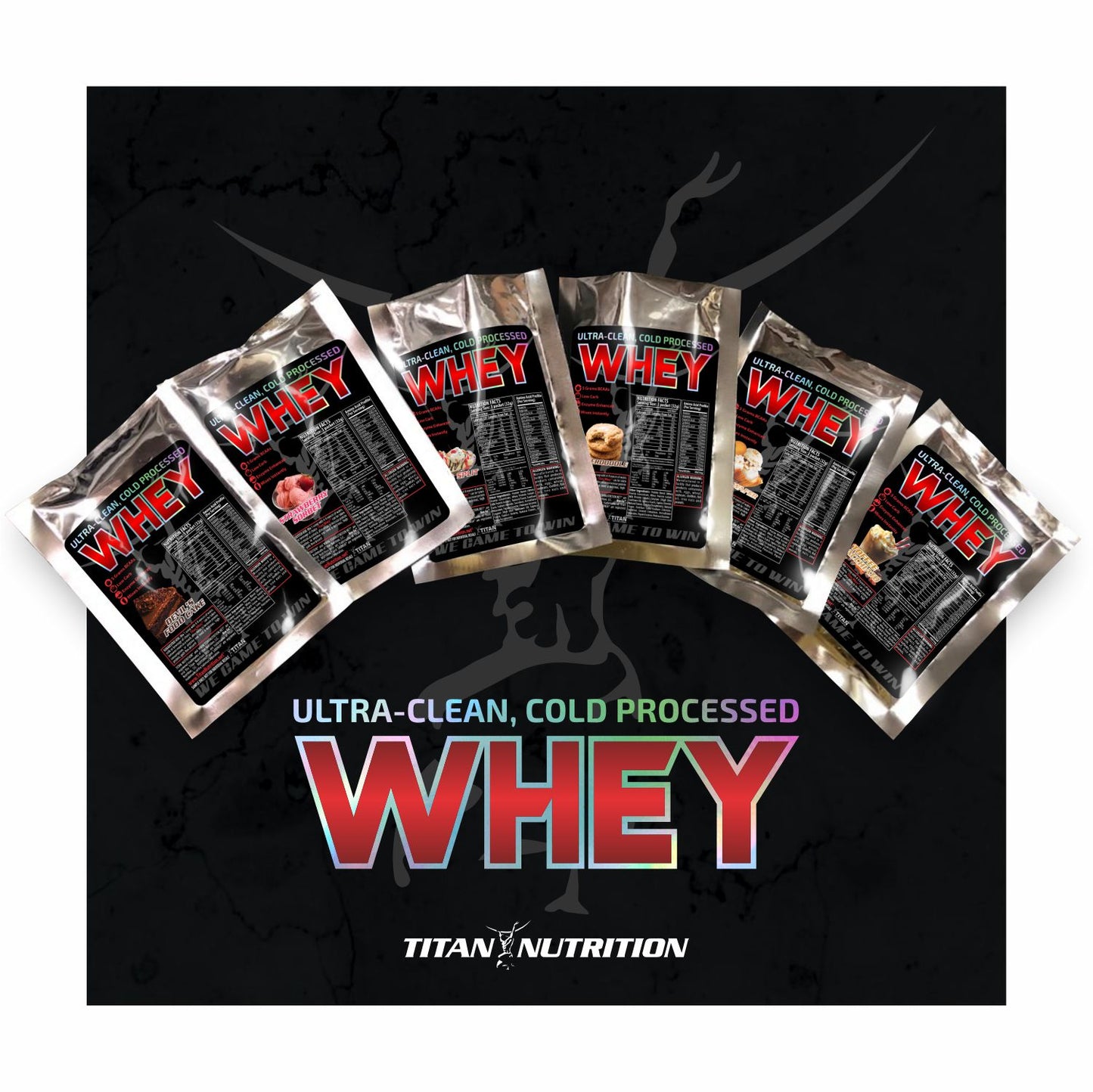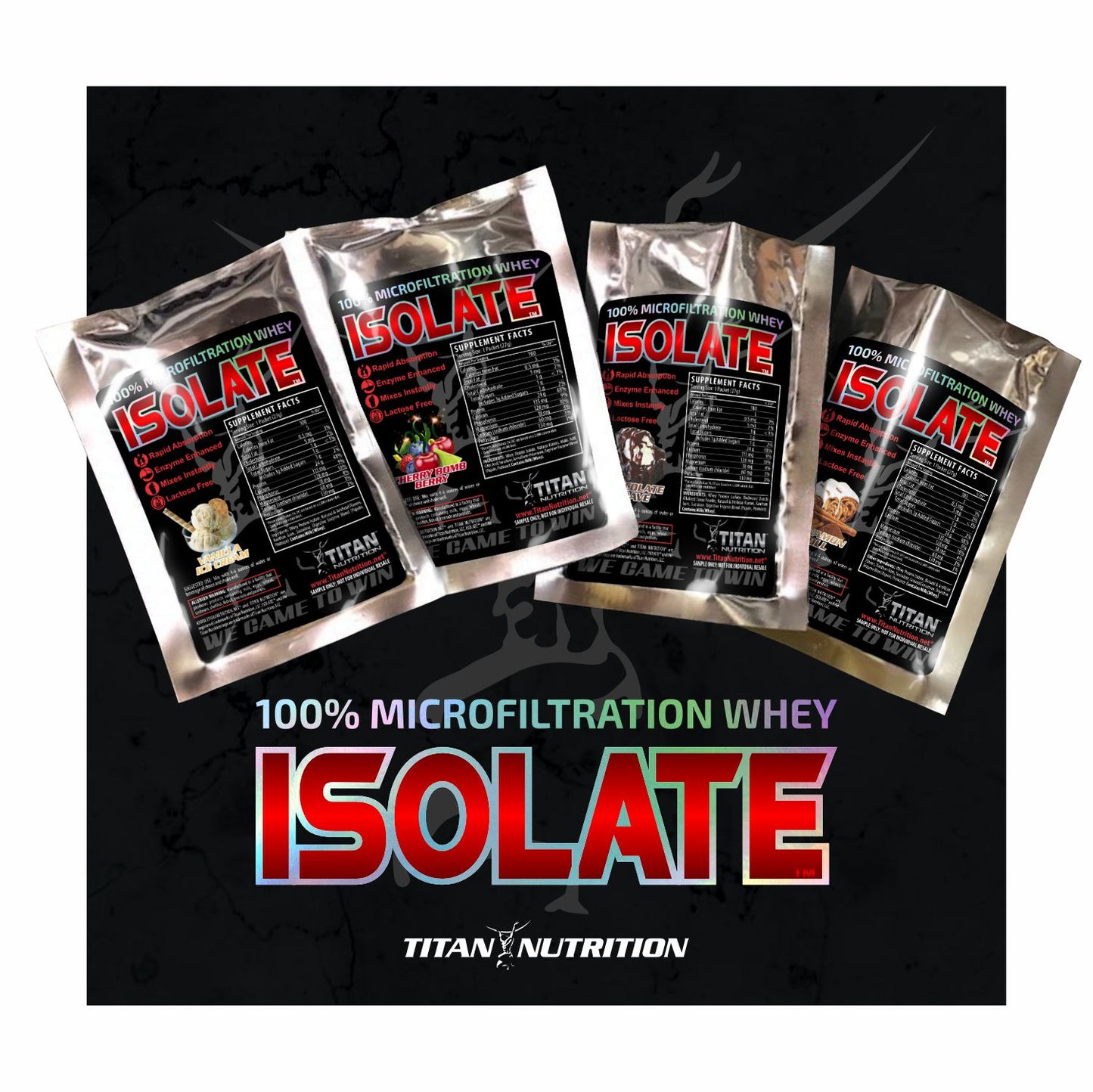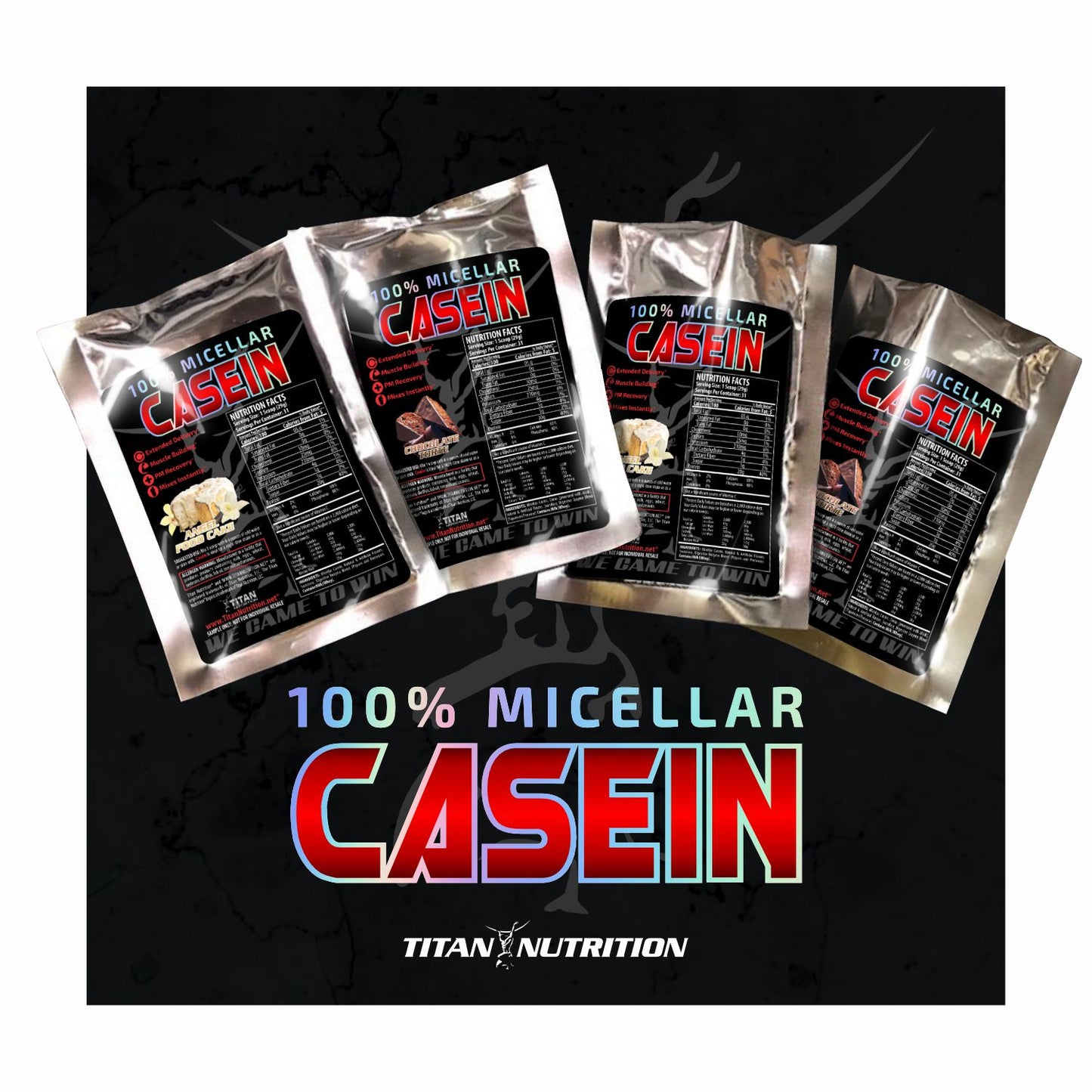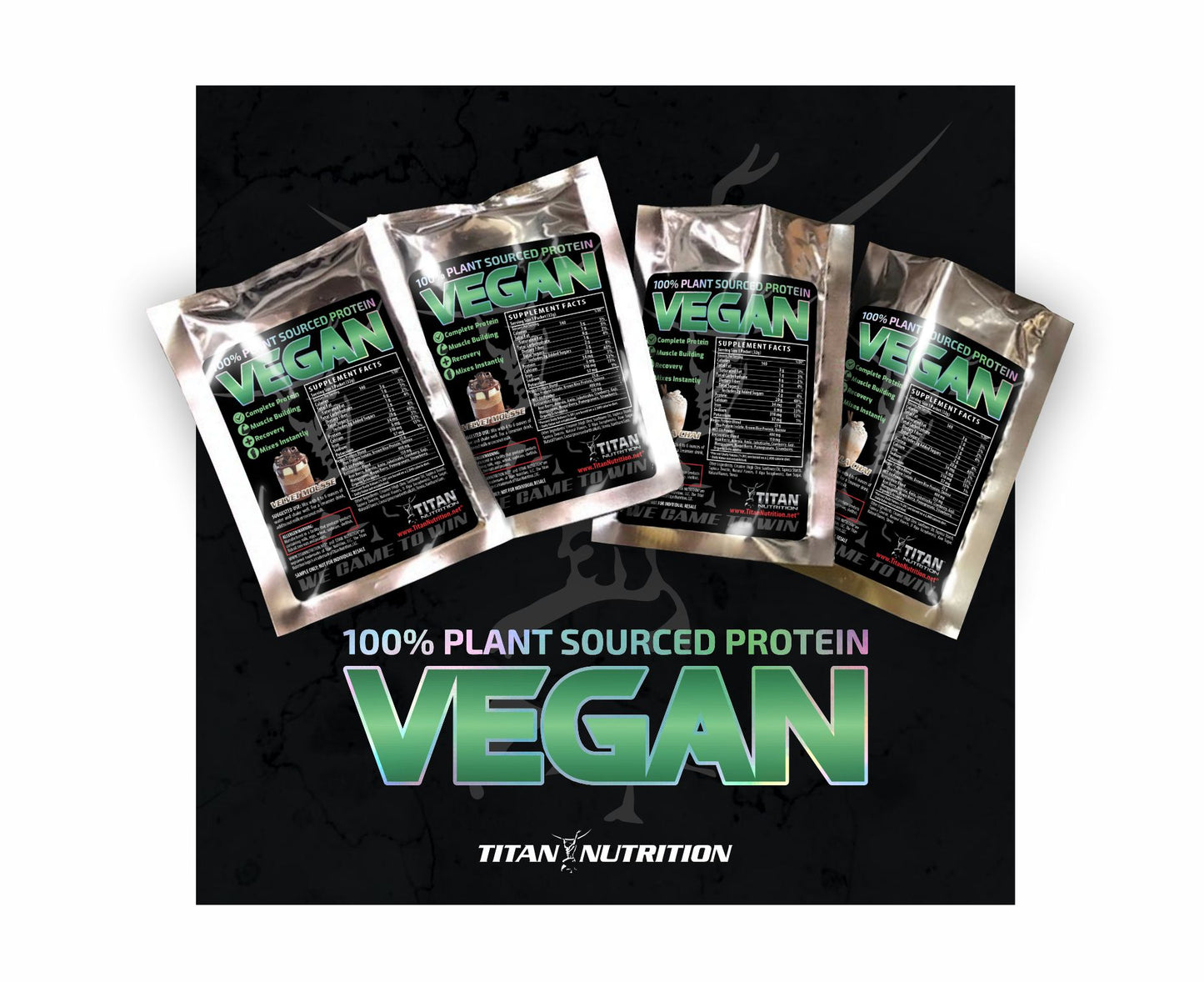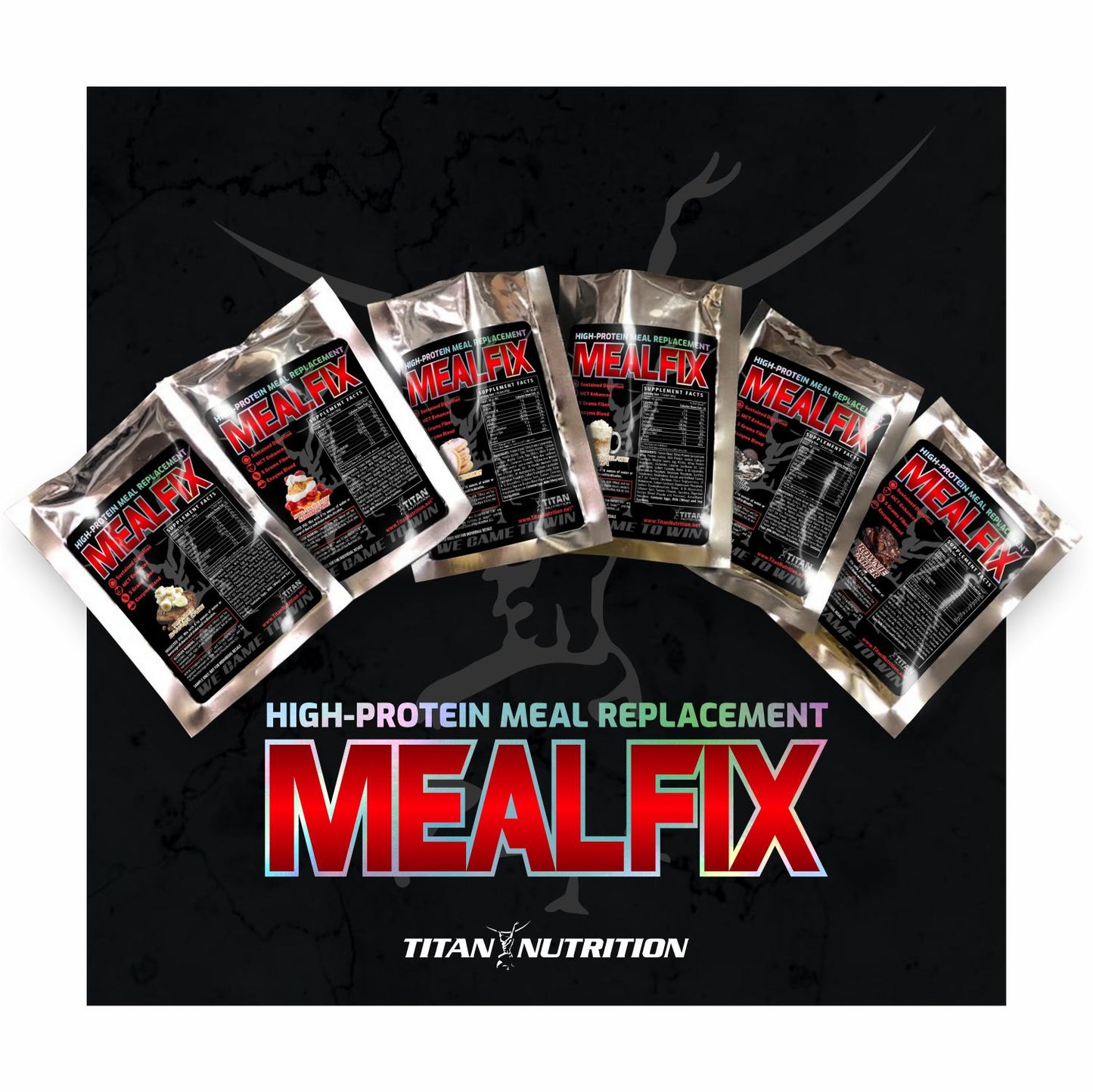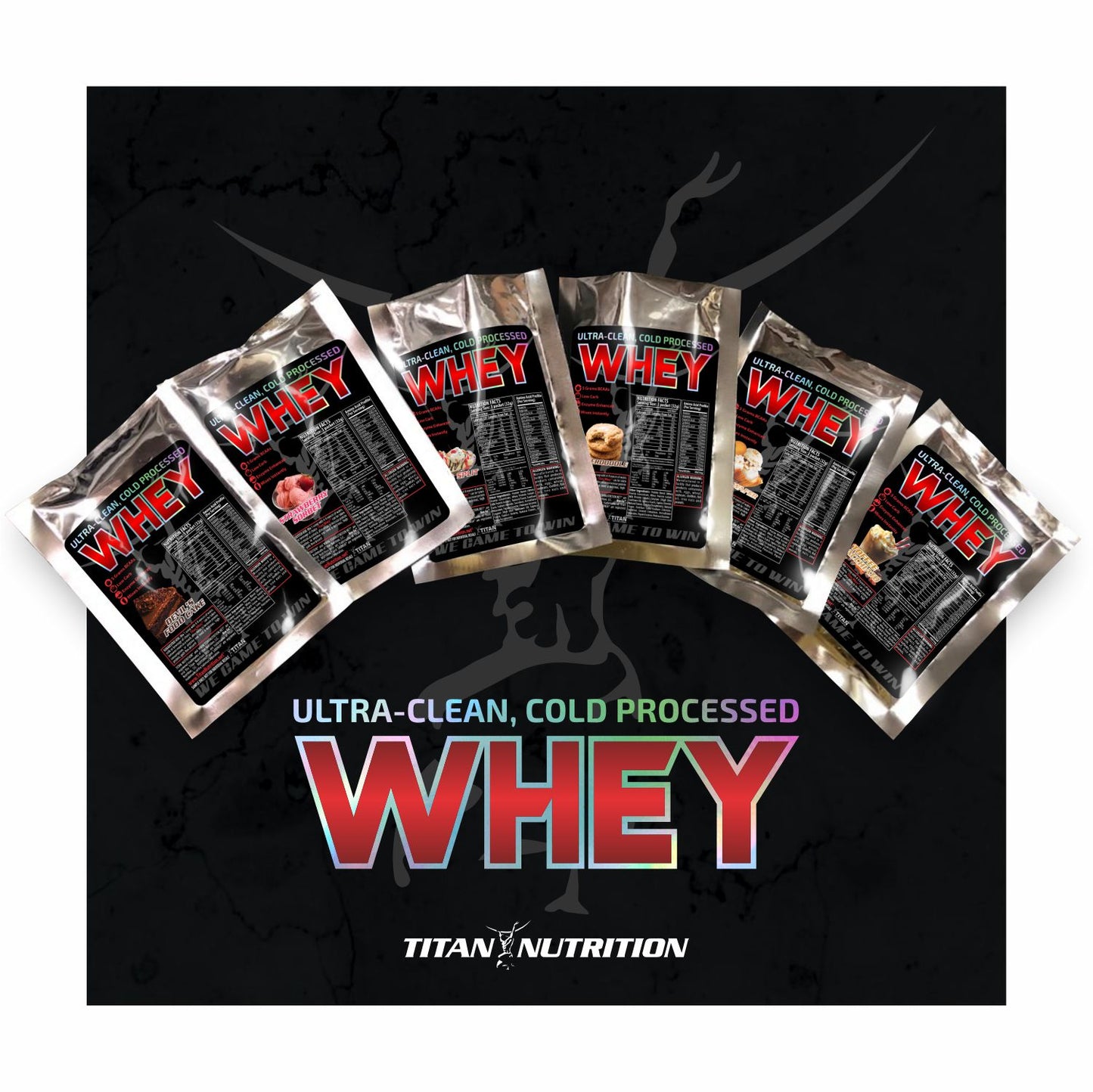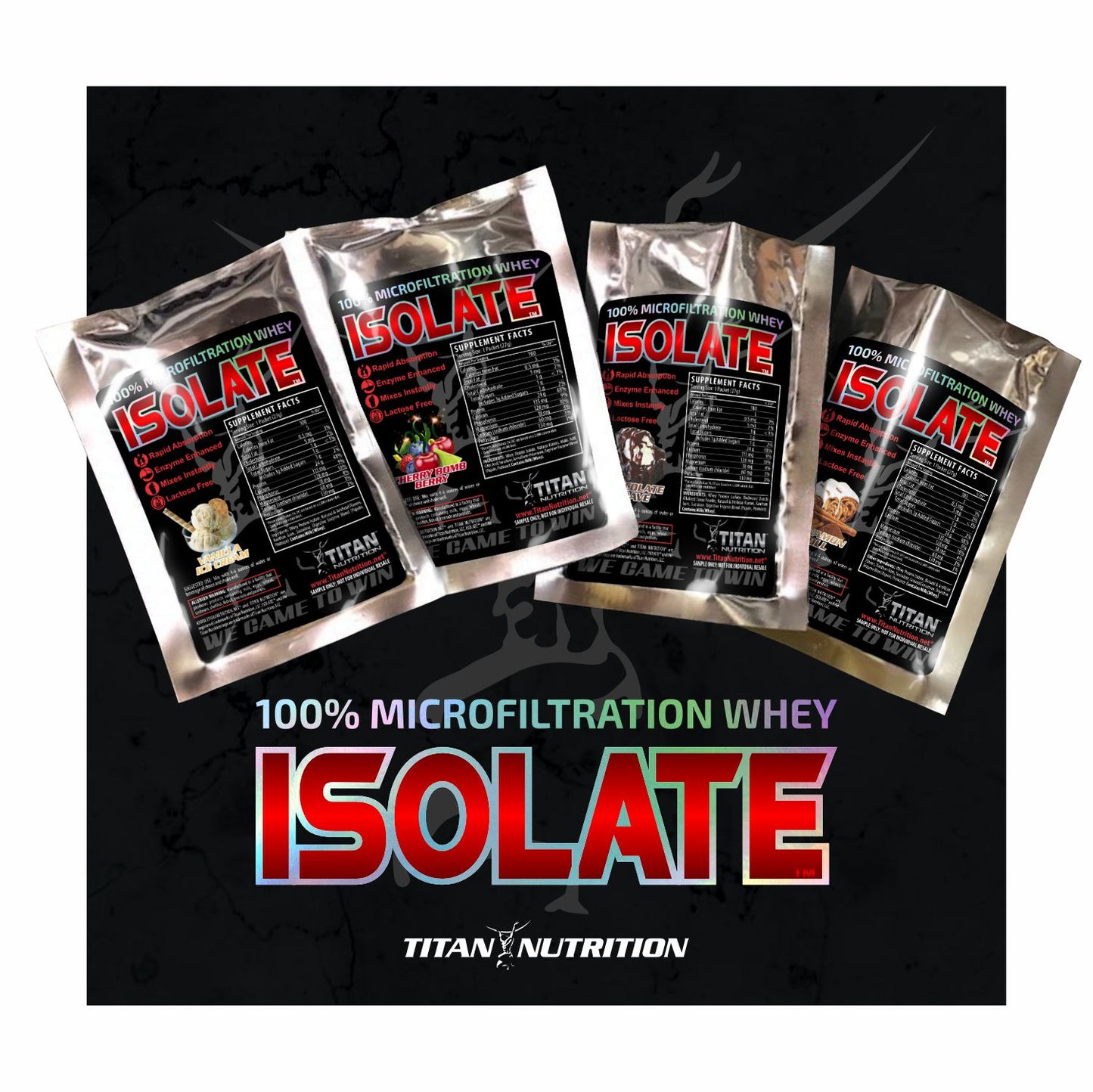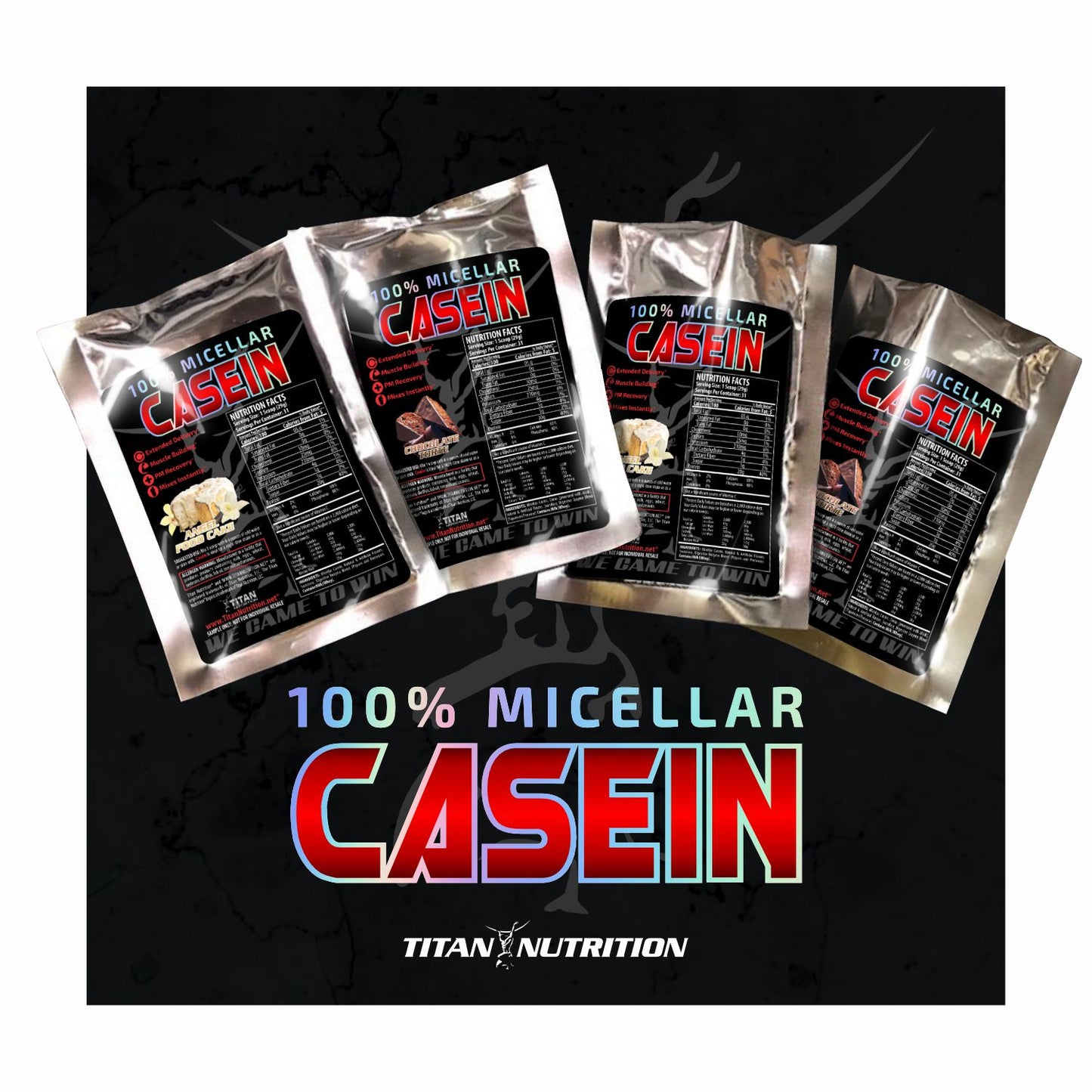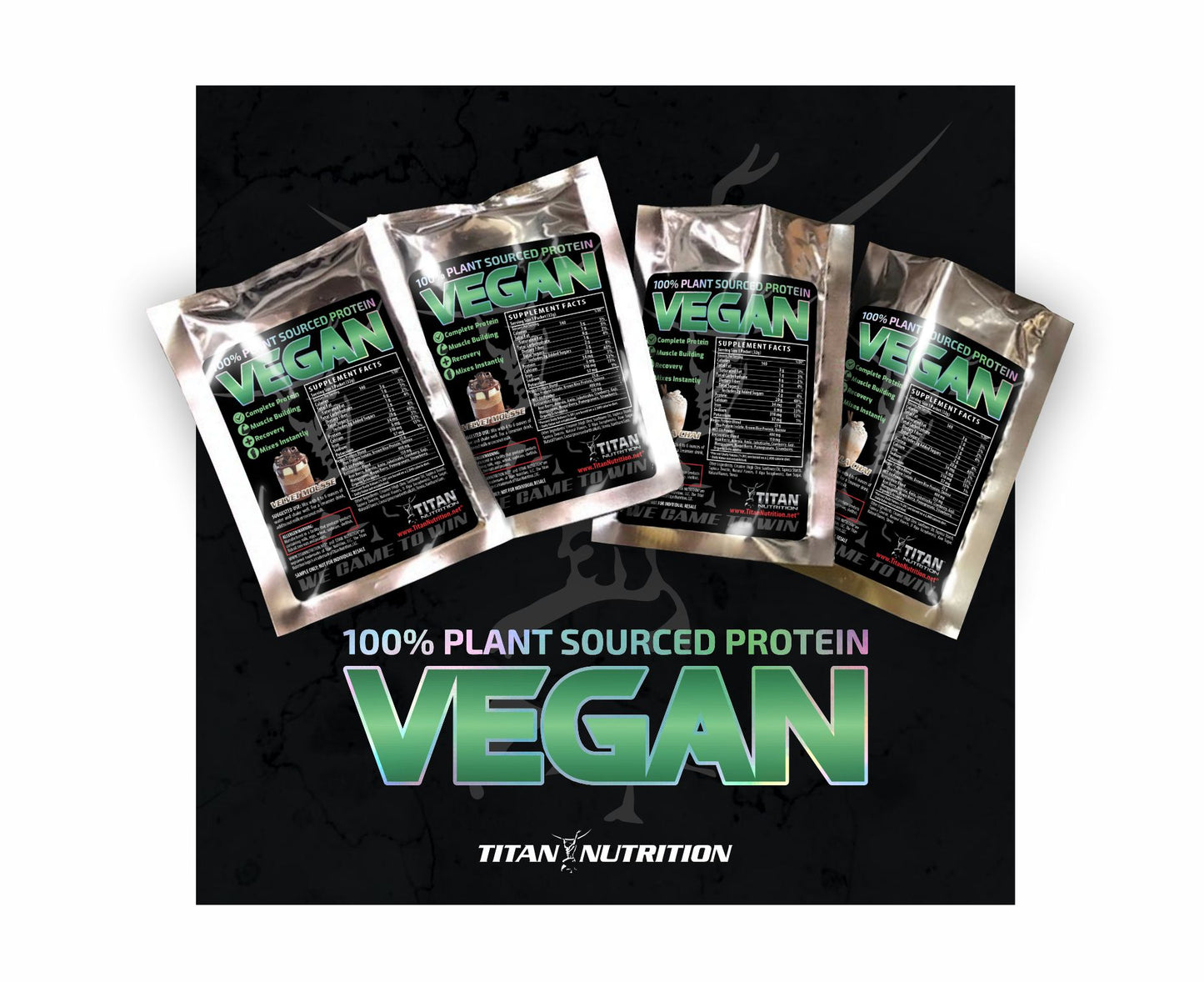 Titan Casein: Casein is the most advanced sustained release protein available and is ideal for long-term anabolic support and recovery.
Titan Nutrition® knows you expect the best quality supplements when you buy from us, and we aimed to deliver with this protein. We used ONLY 100% native casein protein, also known as micellar casein. The gentle, cold filtration process used in Casein yields an extremely bio-available protein characterized by its slow digestive properties.
It is this slow digestion process that makes Casein an ideal protein to be taken at night when amino acid delivery needs to be sustained. When casein proteins are ingested, they dissolve very slowly from the stomach before eventually reaching the bloodstream. This creates a "timed-release" effect, allowing amino acids to steadily make their way to the muscle over an extended period of time. While Casein is recommended as a night-time protein, it is also an ideal snack between meals to create a positive balance and increase nitrogen retention throughout the day.
If you are looking for sustained anabolic delivery to gain muscle, speed recovery and improve performance, look no further than Casein. It mixes easily with a spoon and tastes as good as it works. You'll look forward to every delicious shake!
Titan VEGAN: VEGAN is a multi-sourced, complete plant protein with a superior amino acid profile. The pea protein, brown rice protein, and quinoa provide all nine essential acids vital for building and repairing muscle tissue. These plant powerhouses are also high in fiber, aiding in digestion and satiety.
The benefits of VEGAN extend far beyond high-quality protein. We also added a blend of 11 superfoods for health and antioxidant benefits. These superfoods support detoxification of the body from damaging free radicals, promote healthy cells, and may reduce inflammation.
If you want an alternative to animal-based protein that doesn't sacrifice quality or flavor, you've found it! VEGAN is 100% natural and tastes delicious. Enjoy VEGAN as a post-workout recovery shake or between meals to increase lean protein consumption, and experience the many benefits of this plant-based protein.
Titan Whey™: Titan Whey™ is comprised of ultra fast-acting premium whey protein isolate, the highest yielding non-denatured cold processed whey protein concentrate, and highly bioavailable milk protein isolate. Each of these three proteins offer their own unique benefits. 
Microfiltration whey protein isolate is used for its ultra-fast acting amino acid delivery and nitrogen retention. This ultra clean form of whey is manufactured using no chemicals and is never heated, resulting in superior absorption and bioavailability. The whey protein concentrate is cold filtered to preserve the many important whey protein fractions such as lactoferrin and immunoglobulin, which can be lost in other forms of processing. Milk protein isolate was added for its slower digesting properties, spreading the delivery of amino acids out over time. The isolated form of milk protein is extremely high yielding, containing almost zero fat, carbohydrates or lactose.
To further enhance the effectiveness of Titan Whey, digestive enzymes were added to aid in its digestion and absorption into the body. Titan Whey was developed to be an exceptional source of protein due to its high biological value (BV), amino acid profile and fast absorption. Give your body what it needs to build muscle and recover!
Titan MealFix: MealFix  was designed by TITAN NUTRITION® to be the most convenient source of complete high-protein meal replacement for dieting or muscle-building consumers. Each serving delivers 24 grams of multi-sourced protein, healthy fats from MCT Oil (Medium Chain Triglycerides) and fiber.  Ideal for dieters on-the-go who don't have time to sit down for a meal, and for athletes who want to supplement their diet with a great tasting, muscle-building snack!
MealFix consists of seven highly bioavailable proteins carefully selected to achieve maximum protein absorption over an extended time frame. With multiple high-quality protein sources, MealFix provides prolonged nitrogen retention and a more steady delivery of amino acids than from a single-sourced protein alone.
It takes more than just good protein to be called a meal replacement! To balance out your nutrition, you need healthy fats as well. The MealFix formula includes MCT Oil for its fat source.  MCT Oil aids in fat burning, improves nutrient absorption and increases energy. Along with proteins and fats, there are 5 grams of dietary fiber and digestive enzymes rounding out the formula. These additional macronutrients make MealFix  digest much like a whole food meal.
With MealFix , TITAN NUTRITION looked far beyond an ordinary protein powder to create a muscle-building meal in the convenience of a shake. No other protein powder comes close to providing the complete high protein, healthy macro, muscle building, and fat burning fuel that MealFix delivers!
Titan Isolate: Isolate™ is a 100% microfiltered whey protein isolate comprised of the high-yielding, most bioavailable protein that can be sourced. It was formulated by TITAN NUTRITION® for those who demand only the maximum quality ingredients available. As with all TITAN NUTRITION products, Isolate represents the very best the market has to offer, bar none!
Isolate is comprised of superior whey protein isolates derived from cold microfiltration. This process of separating the protein from its whey source through the use of filters is the gold standard and most natural method of protein extraction. The result is the highest quality non-denatured and bioactive protein on the market. Isolate has no added chemicals and is never heated, resulting in a remarkably clean taste. Isolate is virtually free of fat and lactose, and has just one gram of sugar!
Isolate has been enhanced with an enzyme complex to increase the digestion rate and bioavailable activity.  These added enzymes aid in breaking the bonds of protein isolates into smaller fractions of peptides and amino acids essential to building new muscle. This rapid assimilation of protein breakdown elevates nitrogen levels, stimulating protein synthesis (muscle building) and speeding recovery.
Not all protein is created equal! Isolate was designed with the highest standard of quality and ingredients, and is ideal for increasing anabolic activity, repairing muscle tissue and improving performance. Isolate mixes easily with a spoon and tastes amazing! You will look forward to every muscle-building scoop.