Titan's Immunity Bundle
Regular price
$112.97 USD
Regular price
$112.97 USD
Sale price
$112.97 USD
Unit price
per
Sale
Sold out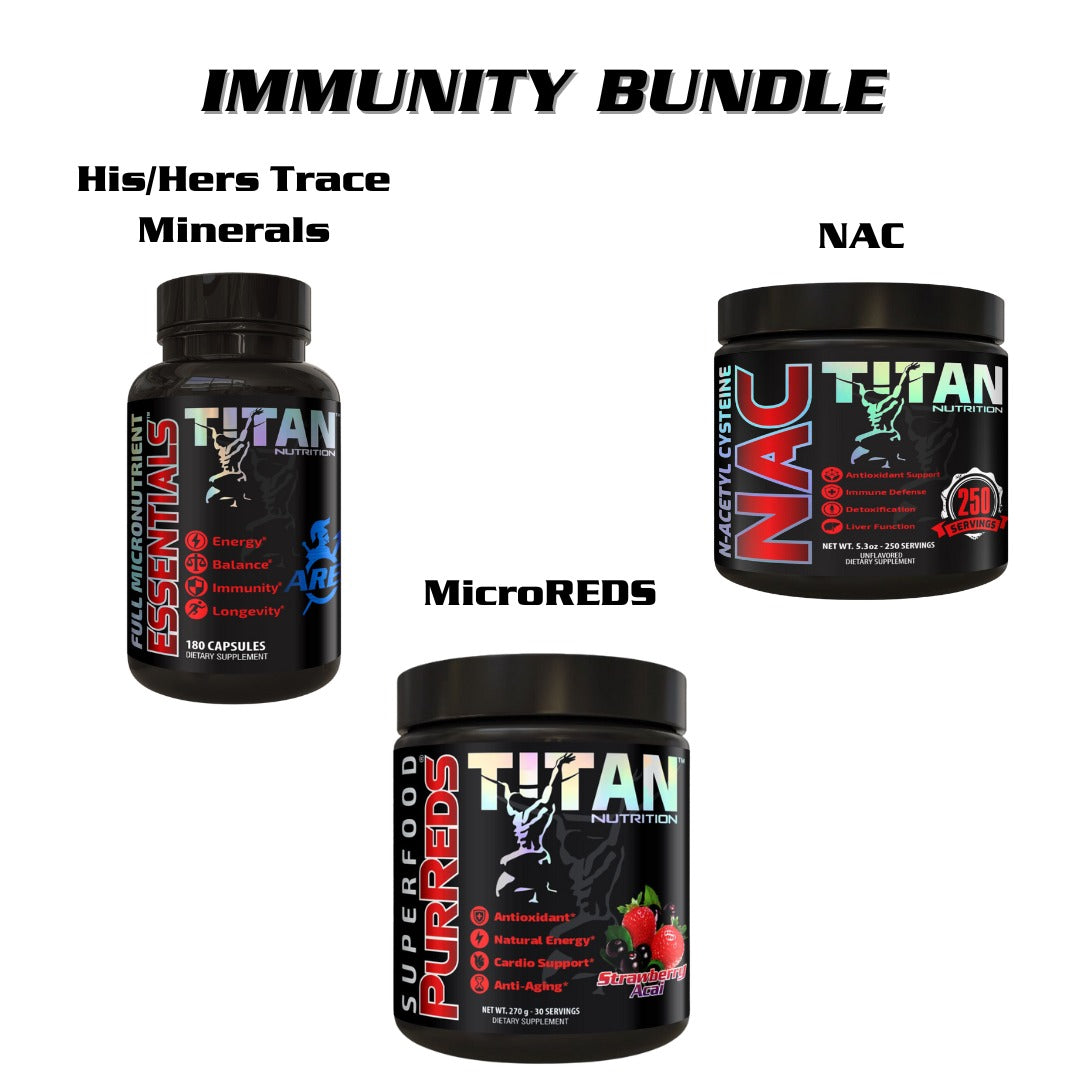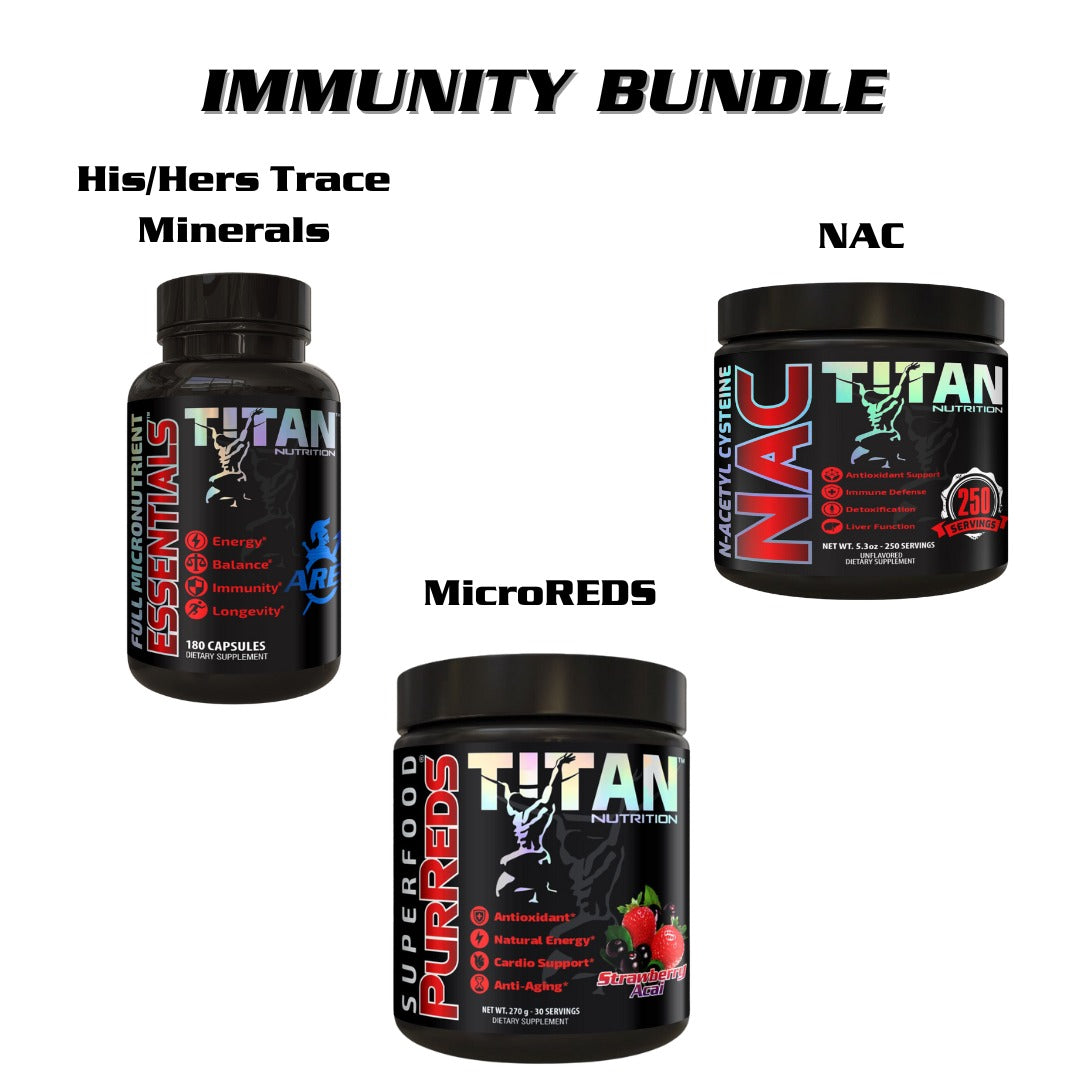 1. Essentials™ Vitamins, a dynamic daily multivitamin meticulously designed to meet the unique needs of bodybuilders and fitness enthusiasts. Packed with essential nutrients, our vitamins are tailored to optimize performance, support muscle growth, and enhance overall well-being.
Gender-specific formulas: Our "His Power" blend ignites male vitality, bolstering stamina and promoting optimal prostate health. Meanwhile, our "Her Power" blend enriches skin health, while metabolic boosters deliver increased energy and mood support.
Vital vitamins: Our comprehensive multivitamin includes vital nutrients like D3 and K2, working synergistically to facilitate optimal calcium absorption, safeguard against arterial calcification, and fortify the heart and bones. These vitamins also play crucial roles in promoting overall health and wellness.
Trace mineral complex: Depletion of essential minerals in our diets due to soil degradation and over-farming is a growing concern. Our vitamins feature a potent trace mineral complex to bridge these nutritional gaps and support peak health and well-being.
2. Introducing Purreds™, the latest innovation from Titan Nutrition, designed to help athletes perform at their peak.
Purreds™ is a premium blend of natural ingredients that work together to support immune health, reduce inflammation, and enhance overall wellness. This unique supplement is specifically designed for athletes who want to stay healthy and perform at their best, even during intense training and competition.
Purreds™ contains a powerful combination of antioxidants, anti-inflammatory agents, and adaptogens. These natural ingredients work together to boost immune function, reduce muscle soreness and inflammation, and improve mental clarity and focus.
Purreds™ is also a great source of vitamin C, which plays a vital role in supporting immune health and reducing oxidative stress caused by intense exercise. It also contains zinc, an essential mineral that supports immune function and aids in muscle recovery.
Unlike other supplements that may contain artificial ingredients or fillers, Purreds™ is made with only the highest quality natural ingredients. It's vegan, gluten-free, and non-GMO, making it a healthy and safe choice for athletes who want to fuel their bodies with the best.
Whether you're a competitive athlete or just want to stay healthy and active, Purreds™ can help you achieve your goals. With its unique blend of natural ingredients, it's the perfect supplement to support your immune system, reduce inflammation, and enhance overall wellness. 
3.Elevate your fitness journey with Titan N-Acetyl Cysteine (NAC), a potent antioxidant specifically formulated to support athletes and active individuals. This premium supplement harnesses the power of NAC, a stable form of the amino acid L-Cysteine, which serves as a precursor for glutathione synthesis. Glutathione, known for its crucial role in immune function, acts as a shield against oxidative stress. Numerous studies have demonstrated NAC's ability to significantly reduce viral replication, making it an invaluable addition to your bodybuilding regimen.
Protects against free radicals- Neutralizes harmful free radicals caused by oxidative stress, promoting healthy cellular aging
Liver and Lung Support- Supports optimal liver and lung function while acting as a detoxification agent throughout the body
Cardiovascular health- Enhances bronchial and respiratory health by improving mucosal lining and lung transport. 
Immune Support-Boosts resistance to viral infections by restoring sulfhydryl balance and exhibiting anti-toxin properties